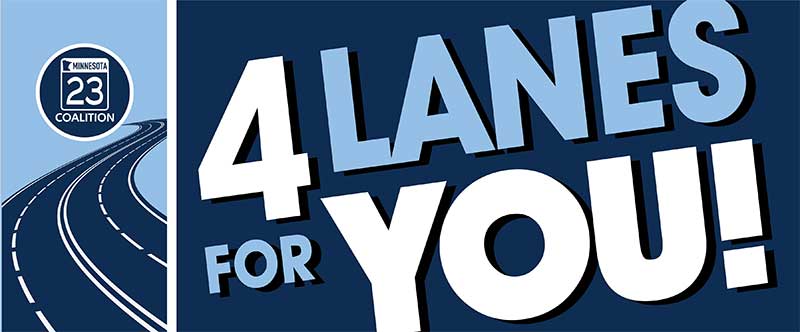 MISSION STATEMENT: Citizens Advocating for a 4-Lane Minnesota Highway 23
Join the Hwy 23 Coalition in supporting a 4-lane highway from I-90 in southwest MN to I-35 in northeast MN, which would be the only four-lane highway running north to south, increasing safety, encouraging mobility, and promoting growth. Help create a better option for efficient, safe transportation throughout the corridor.
Attract and retain manufacturing and other high-paying jobs, businesses, and skilled workers.
Provide logistics and warehousing businesses, with just-in-time inventory models, the four-lane accessibility that their industry requires.
Provide safe, reliable transportation that is crucial for our key industry sectors and the traveling public.
Build safe and adequate highways for transport of agriculture commodities and livestock that is important to small towns and rural areas in Greater Minnesota.
Without Changes to Highway 23, Growth Can't Happen
These important accomplishments in safety and economic growth can
not be made without change and that change begins with you!
Foster economic development
Decrease traffic congestion
in Minneapolis/St. Paul
Attract and retain businesses, jobs, & skilled workers
Improve transportation from Sioux Falls, SD to Duluth, MN & Superior, WI
Create opportunities for community growth, including population & tourism
The Hwy 23 Coalition is Looking
To Our Economic Future
The Hwy 23 Project focuses on increasing the awareness of building a safer, more efficient Highway 23 Corridor. The Highway 23 Coalition has made large strides towards our goals and we continue to push forward toward our economic future.
Join The Highway 23 Coalition
Become a Member
Join our group of passionate go-getters helping make change happen. Complete our online form.
Get Engaged
Promote a better option for efficient, safe transportation throughout the Hwy 23 Corridor.
Create a 4-Lane Hwy 23
Change the transportation system from Sioux Falls, SD to Duluth, MN & Superior, WI with a 4-Lane MN Highway 23.
Highway 23 Coalition has 100+ members fully supporting the effort to fill the gaps in 4-lane access including:
Stay Up-To-Date With
Hwy 23 Coalition Progress
Subscribe for Hwy 23 Coalition progress updates and accomplishments. Subscribe now!